Junk-Free Schools Video Contest Winner: Now and Then by Paris Deesing, age 13

Healthy South Carolina Video Contest

First Lady Jenny Sanford and State Superintendent of Education Jim Rex joined together to issue South Carolina students (ages 13 through high school) a healthy challenge: create a 30 to 60 second video advertisement that addresses the importance of healthy living or chronic disease prevention.


Click on the picture below for a link to the student-created videos.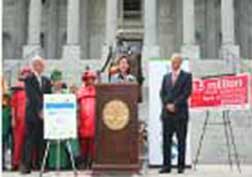 Photo of the First Lady of South Carolina,
Mrs. Sanford giving a presentation on the
Healthy SC School Video Contest at the
National Governor's Association meeting.
These four videos were produced by young people for the Future Filmmakers 2007 event sponsored by Get Outta My Face, a SchoolFoods.org partner. GOMF is a non-profit organization providing a youth-driven counterpoint to popular culture surrounding food, beverage and lifestyle choices and the $12 billion in annual junk food marketing, by harnessing the power of digital media and the talent of youth aged 9-22.